Vacation Recorder for Crestron Lighting
admin on October 27, 2021
Features
Provides extra security by giving the impression of an occupied house
This driver records your lighting changes throughout the day and stores them for future playback. This way the lighting can be set to an away or Vacation mode so that the apperance of an occupied house can be given.
Records Lighting Usage for recorded playback
Configuration settings allow you to exclude rooms from the playback to reduce energy consumption.
Provides Logic control for actions and events
The driver allows for controls via Actions and provides passthru events for enabling and disabling other logic based on a Home or Away Status.
Provides Daily Random events for Audio Visual Media Scenes
In addition to Lighting events to create a real impressions of an occupied house two sets of paired events are provided to drive media Scenes. These are randomised automatically on a daily basis to stop them from looking automated. One set of events is provided for Morning and one for evening to recreat the impression of normal house usage. These can trigger audio visual equipment or media scenes to be recalled.
Setup
Technology
This driver leverages the Crestron Home Web API.
Before loading the driver make a note of your API Authentication Token.
We have a "how to" article and video here
Dynamic Configuration
Other than entering the token above there is no other configuration to do on the driver.
The UI shown is based on the current Crestron Lighting Areas Scenes.
Setup New V4.2.0.0 Onwards
From verson 4.2 we have simplified and automated the connection and you simply load the driver to you system and add your licence key using the setup app, Web App or User Interface.
Mode: At Home
When the driver is in At Home mode the software will record the state of your crestron lighting every 5 minutes. You can see this data building up in the settings section of the driver and verify that everything is working correctly.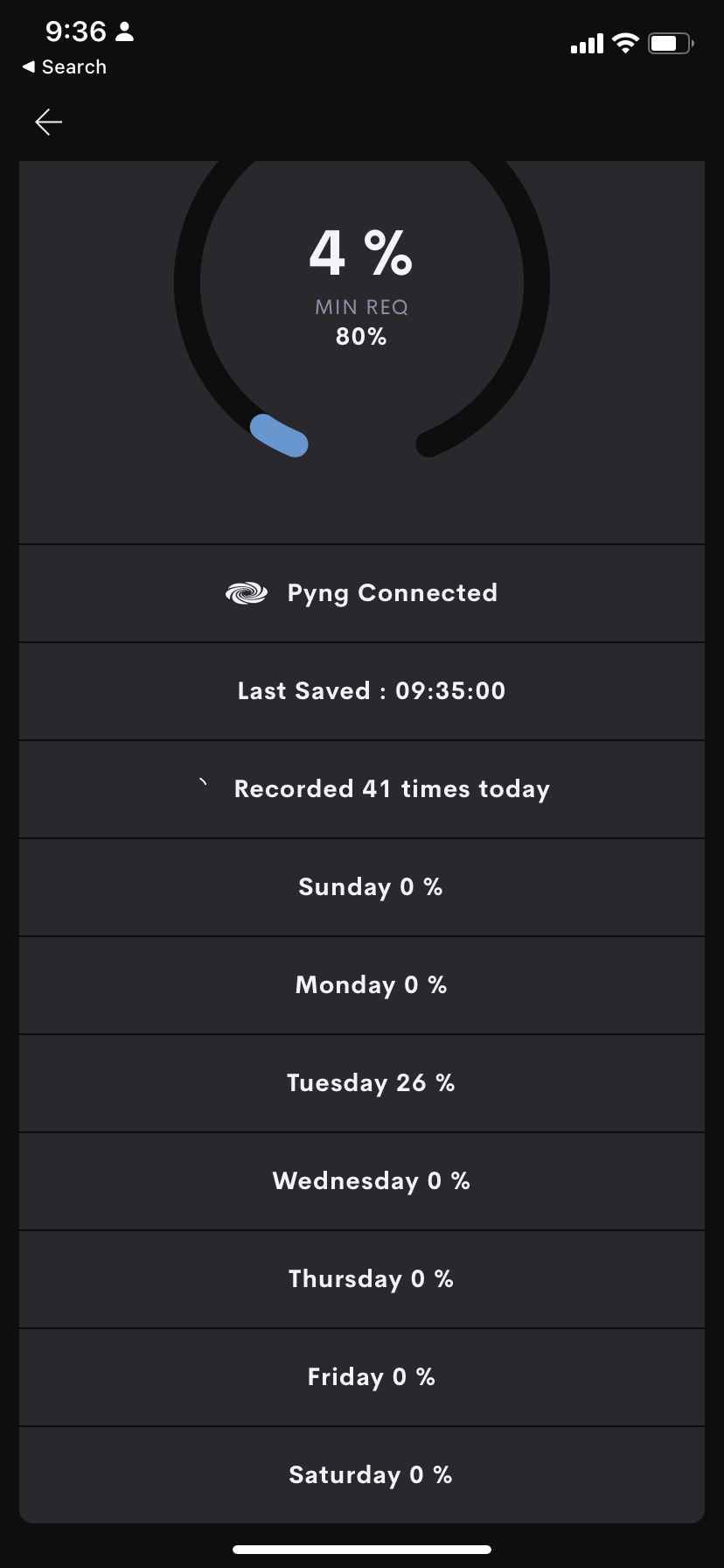 The stored data page shows
Total Percentage of Stored States
Daily Percentage of Stored States
The time the last save was done
The Number of states saved today.
The Connection Status of the Pyng Connection.
The driver records lighting in real time so to build up a full picture it records all the time even once it has a full record of data. To enable the driver to be used for "Away Mode" before a full weeks worth of data has been captured we will copy data from a full day to any days that dont have enough data.
Hence the minimum requirement is 80% on one day of the week. Once this has been captured you will be able to enable away mode.
When Away mode is active the System does not record current lighting states and this is indicated on the stored data page.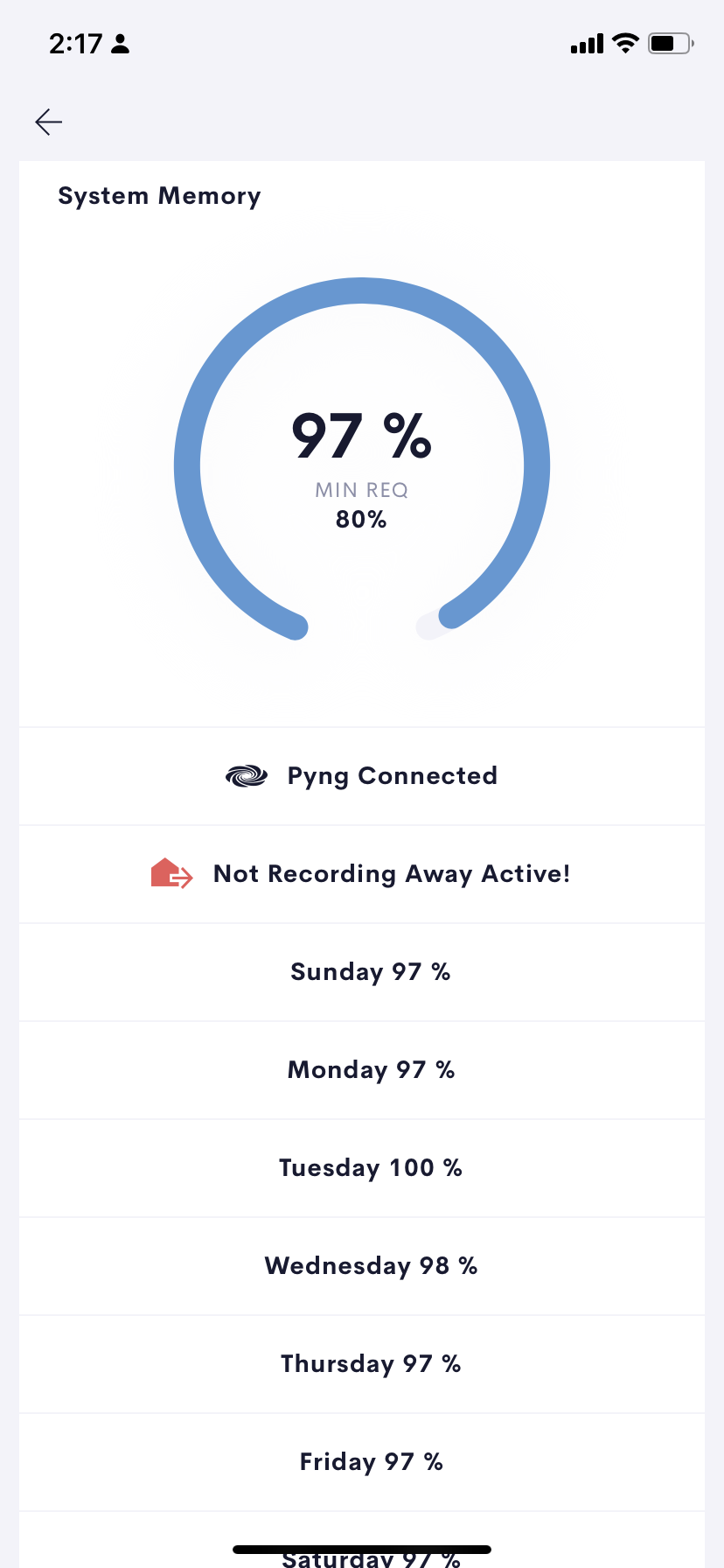 Mode: Away
When set to Away Mode the driver will recall the pre-recorded lighting scenes in all rooms which have not been disabled in settings. The driver will recall lighting scenes every five minutes to make the lighting changes as per the states recorded during the previous 7 days.
Exclude Rooms
In settings you can disable certain rooms. When a room is disabled its lighting wont be changed based on the recorded states.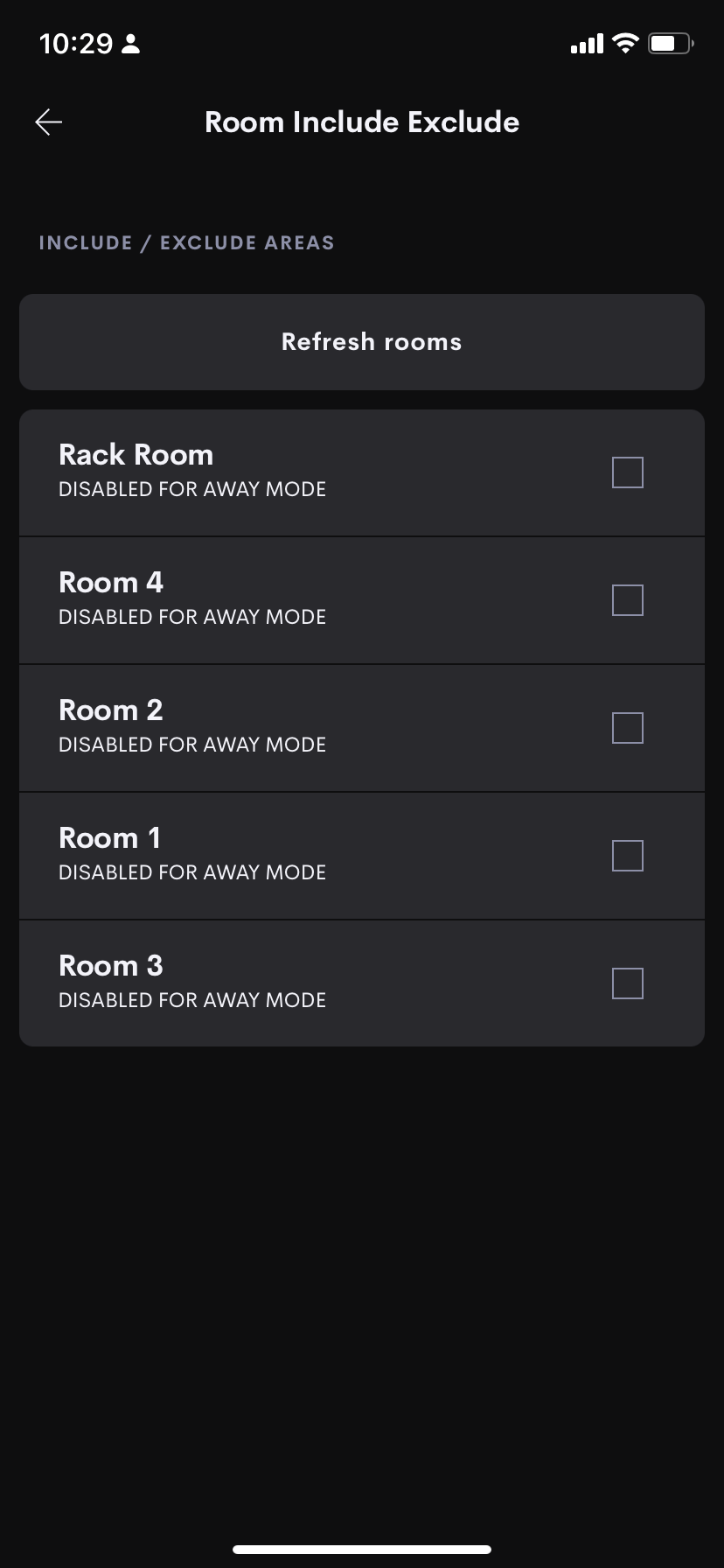 Actions and Events
Actions (Connect other events and keypad presses in your system to control the driver)
| Action | Description | Parameter | Value | Notes |
| --- | --- | --- | --- | --- |
| SetHome | Sets the Current Mode to Home | | | |
| SetAway | Sets the Current Mode to Away ( if sufficient state data is recorded) | | | |
| Toggle Home Away | Toggles the current Home/Away State | | | |
| AwayPassthru | Triggers the Button Passthru Away State event when the current mode is Away | | | |
| HomePassthru | Triggers the Button Passthru Away State event when the current mode is Home | | | |
Events (Connect other functionality based on an event in the driver)
| Event | Description | Notes |
| --- | --- | --- |
| AV Event AM Start | This event fires at a randomised daily time in the morning. | These Events are randomised daily and are intended to control AV Scenes to give the impression of an occupied house. |
| AV Event AM End | This event fires at a randomised daily time in the morning after the Start Event. | These Events are randomised daily and are intended to control AV Scenes to give the impression of an occupied house. |
| AV Event PM Start | This event fires at a randomised daily time in the afternoon | These Events are randomised daily and are intended to control AV Scenes to give the impression of an occupied house. |
| AV Event PM End | This event fires at a randomised daily time in the afternoon after the Start Event. | These Events are randomised daily and are intended to control AV Scenes to give the impression of an occupied house. |
| Home Pass Event | This event fires whenever the Home Passthru action is triggered and the current mode is Home | |
| Away Pass Event | This event fires whenever the Away Passthru action is triggered and the current mode is Away | |